Green Eco-House
(2-4 persons)
Amenities and photos
Availability calendar
Prices
Welcome! Our holiday house and the three holiday flats are in Vogtsburg Oberrotweil, in the midst of the sunny wine-region Kaiserstuhl.
If you love art and wine, if you enjoy hiking through the wine terraces and forests, biking, or strolling through the historical cities of Breisach, Freiburg or Colmar, or if you just want to enjoy some comfortable, well-equipped space to relax, then our holiday flats are ideal for you.
Our holiday house additionally offers space for up to 8 people! All flats have plenty of natural light and are full of artworks of various artists and individualized furniture. You will feel at home!
Our flats are egligeable for allergic persons - we can unfortunately therefore not host animals or allow for indoor smoking.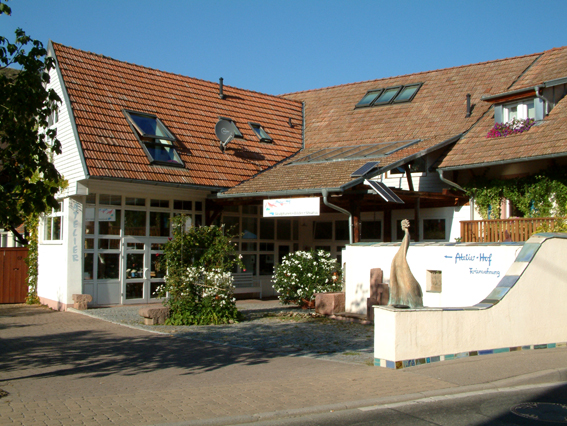 Holiday flats in the Atelier-Hof
(2-4, 2-4 8-10 persons)
Our former holiday flats in the Atelier-Hof (Maisonette-Wohnung, Atelier-Wohnung, Winzerhof) are now rented out by Ms. Mirjam Seiter. You can find the website for these appartments under at
http://www.atelier-hof.de